FlaSEIA CAREER FAIR - May 3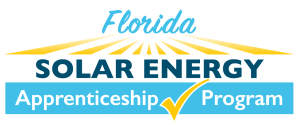 This career fair is designed to help individuals looking for jobs in the solar industry.  Candidates include college students seeking internships, soon-to-be-graduates looking for entry level jobs, and experienced candidates looking for new opportunities.  Those interested in apprenticeship can also learn about and participate in FlaSEIA's groundbreaking Solar Apprenticeship program, the first solar apprenticeship program registered with the U.S. Department of Labor.
Wednesday, May 3 Schedule
1:00 – 1:45 p.m.               CAREER FAIR REGISTRATION Check-in

1:30 p.m.               FLORIDA SOLAR APPRENTICESHIP PROGRAM INFO SESSION
2:00 p.m. – 3:30 p.m.               CAREER FAIR
Click here to register for the career fair as a candidate or an employer looking for candidates.
Registration is free for all.  All attendees will be provided a FlaSEIA Career Fair Prospect ribbon and receive a welcome packet.
Those interested in apprenticeships should attend the panel moderated by Dave Bessette and are invited to network with Summit Exhibitors in the expo area.